December 13, 2013
7th Global Brain Alliance Forum held at Roppongi Hills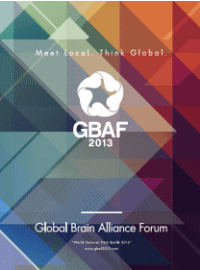 The 7th Global Brain Alliance Forum ("GBAF"), one of the few meetups between global ventures and major corporations in Japan, took place on December 13th at Roppongi Hills.
This year the forum was even more of a global event, with the customary "GBAF Pitch Contest" being battled out by business plan contest champions from countries throughout Asia, Japanese ventures and troops from Techstars, America's top accelerator, as well as participation by influential venture capitalists and entrepreneurs from across Asia.
A total of over 350 guests attended this event, comprising of people in charge of management planning and new business at major corporations, venture company operators, universities, audit firms, securities markets, law firms and media.
Yasuhiko Yurimoto, President and CEO, Global Brain Corporation
"Global Brain (GB) Activities Report"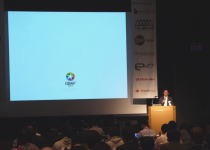 Mr. Yurimoto spoke about the achievements of the KDDI Open Innovation Fund over the past year, as well as global strategies such as relationship building with the local venture communities through hosting events in all of the major Asian countries and support for US ventures when entering Japan. Mr. Yurimoto also expressed Global Brain's determination to return to the origin for supporting ventures and strengthening organizational framework in order to accomplish a wider range of support.
Panel Discussion
"Highlights of Partnership Promotion between Global Ventures and Major Corporations"
The discussion concerned the concrete actions and achievements of CVC (corporate venture capital) promoted by utilizing a fund framework for business and asset partnerships between major corporations and venture companies. Panel members were Mr. Ebata from our partner KDDI, CEO of Korean venture company "5Rocks"-Mr. Lee, and our GB member in charge of 5Rocks, Mr. Kumakura
Panelists
Tomohiro Ebata, Director,Global Business Development Department,
Advanced Business Development Division,KDDI
Changsu Lee, CEO, 5Rocks
Jiro Kumakura, Global Brain Corporation
Moderator
Nobutake Suzuki, Global Brain Corporation

Techstars President - Mr. David Brown
Managing Partner - Mr. Mark Solon
"Techstars Overview, History and Mission"
A presentation was given regarding the characteristic accelerator program content and accomplishments, as well as future strategies, for "Techstarts", the US accelerator on par with Y Combinator.

Panel Discussion :"Aiming for New Venture Capital"
First, Mr. Yurimoto of Global Brain announced the"GB-V Growth Fund Investment Limited Partnership", which is a new fund which has Innovation Network Corporation of Japan as its leading partner. After this, Mr. Tsuchida of the Innovation Network Corporation of Japan and Mr. Masujima of Mori Hamada & Matsumoto law firm discussed the issues faced by present day venture capital and venture finance as well as the directives which should be taken in the future.
Panelists
Shigeyuki Tsuchida, Senior Executive Managing Director,
Head of Value Creation Investment Group, Innovation Network Corporation of Japan
Masakazu Masujima, Partner & Lawyer, Mori Hamada & Matsumoto
Moderator
Yasuhiko Yurimoto, President and CEO, Global Brain Corporation

Business Plan Content "GBAF Pitch Contest"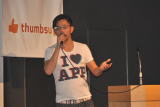 Speaker: Founder and CEO Yusuke Takahashi
AppSocially is a platform similar to ShareThis, but for mobile and even more powerful. It provides an easy-to-use tool for mobile app developers to integrate customer-acquisition functions into their apps and keep track of "actionable" referral metrics.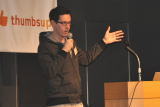 Speaker: Co-founder and CEO Ben Sperry , Co-founder and CTO Max Lynch
Drifty is a software studio based in Madison, WI, and makers of popular HTML5 visual interface-building products, Codiqa and Jetstrap. Drifty is also behind the HTML5 open source framework, Ionic, which helps developers create native apps using web technologies.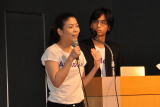 Speaker: CEO and Co-founder Nikki Assavathorn
Avalable is a highly engaging social dating App. It lets users chat, follow timelines, and play games together. It will send daily matches to users based on compatibility scores, as well as users' interaction with each other.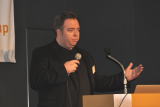 Speaker: Founder & CEO Mat Ellis
Cloudability's cloud cost and usage analytics tools make it easier than ever to track, manage and communicate your cloud spending and usage. Collect and store cost and usage data from all of your cloud accounts in one tool.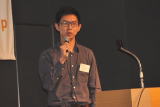 Speaker: CEO & Co-founder Dr. Jeff Kuo
WhosCall helps you identify background information of strange calls in real time and is the leading brand for call filtering and number management on smartphones. WhosCall identifies strange calls in an instant through internet searches and reports by users. Determining calls only from people you know in an instant, it will detect suspicious phone numbers, WhosCall protects you from phone advertising, annoying sales and fraud.
Speaker: CEO and Co-Founder Ryan Frankel
We have a community of thousands of quality-assured professionals, who reside in over 75 different countries and collectively cover 140 languages. By leveraging our technology we can maintain costs, increase quality, and provide unequaled access to translation services.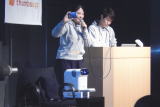 Speaker: Co-founder & CMO Lynn Jeon
SinglePet is a smart and remote pet care system using sophisticated technologies including a hardware gadget and a mobile application, which together enable pet owners to take care of their pets at home from anywhere at any time.The gadget has a camera and microphone installed so pet owners are able to communicate with their pets in real-time on their smartphones. Pet owners can also feed their pets; dispensing food from the hardware, by simply pressing a button in the smartphone app.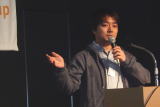 Speaker: Founder and CEO Masahiro Tanaka
Asial is a technology venture which performs technical support, development and service management with a focus on server-side Web, smartphones and HTML5 technology. "Monaca" is a cloud-type hybrid app development platform provided by Asial which supports iOS, Android and Windows 8.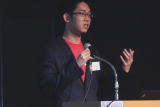 Speaker: Cofounder, Business Development Chun Kiat Chua
triibe provides businesses with a turnkey solution to manage customer feedback more intelligently. The system leverages on happy customers to spread positive word-of-mouth on social media, and alerts management immediately whenever there are customer complaints. With triibe, businesses are able to perform service recovery in near real-time which reduces customer churn and drives stronger retention.
Networking Party
At this year's networking party, a total of 18 demo booths were set up consisting of the 9 venture companies which participated in the Pitch Content and the below 9KDDI Open Innovation Fund portfolio companies. At the booths, demonstrations on each company's technology and/or service were given, and there was lively interaction had between participants.
9 additional demon booths
The results of the Pitch Contest were,Triibe (Singapore) in first place, Asial (Japan) in second place, and Gogolook (Taiwan) in third place.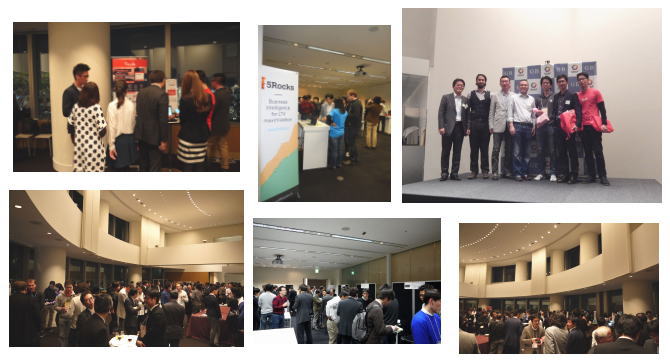 This year was our 7th alliance forum, and we will continue to enhance this exciting event. Look forward to Global Brain's future activities!