December 19, 2014
8th Global Brain Alliance Forum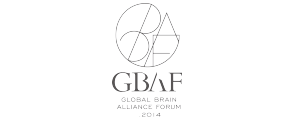 The 8th Global Brain Alliance Forum ("GBAF"), one of the few meetups between global startups and Japan's major corporations, took place on December 19th, 2014 at Roppongi Hills.
The GBAF 2014 focused on "Monozukuri" (means simply "making things", but implies art, science and craftmanship of the Japanese manufacturing technology and processes) in addition to the IT oriented theme. The program included domestic and international trend in hardware startups, growth strategies of global startups, and discussion sessions with the top executives of startup titans.
In our regular annual program "World Ventures Pitch Battle 2014", 10 startups who won the international pitch event have participated in the battle.
Over 350 guests attended this event, from executives and corporate/business development from major companies, startups, securities markets, universities, audit firms, law firms and media.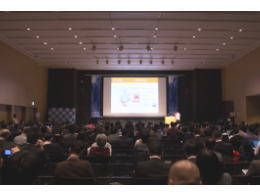 Strategic Initiative of Global Brain Yasuhiko Yurimoto, President and CEO, Global Brain Corporation
Yasuhiko spoke about the achievements of Global Brain ("
GB
") in 2014, as well as
GB
's strategic initiatives including the launch of an acceleration program for kids business startups and the "
Monozukuri
" platform.
In addition, Yasuhiko announced that GB will establish a regional office in Seoul, South Korea and appoint Chester Jungseok Roh, a prominent angel investor and CSO at Korean startup 5Rocks, as chief representative for the Seoul office.
Yasuhiko also announced that GB will relocate its office to Sakuragaoka-cho, Shibuya in this Spring to begin the EIR (Entrepreneurs in Residence) program and foster the startup community.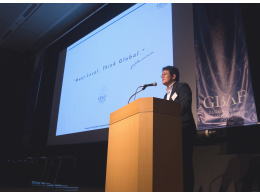 "Monozukuri" startup's challenge
On one of major focuse of Global Brain, Zak Murase,
GB
's Silicon Valley office representative, presented "
Monozukuri
trend from the Silicon Valley perspective", followed by a panel discussion on the business environment and KSF (key success factor) around "
Monozukuri
." The panel was moderated by Kazuhiko Miyama of GB Tokyo, with Noburo Ijuin at
Alps Electric
, Ko Kijima at
16Lab
, and Zak Murase.
Panelists:
Noburo Ijuin, 1st Sales Department at Alps Electric Co., Ltd.
Ko Kijima, CEO at 16Lab Inc
Zak Murase, Global Brain Corporation (Silicon Valley representative)
Moderator
Kazuhiko Miyama, Global Brain Corporation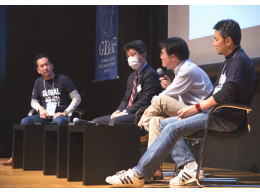 Growth strategy of global startups
GB
has been facilitating strategic alliances between startups and major companies in both capital and business alliance.
5Rocks
backed by
GB
has built more than 700 global customer base within 1 year after the massive fund raise and has merged with
Tapjoy
operating more than 10 countries across the world. The stakeholders of
5Rocks
discussed the specific action and results, moderated by Jiro Kumakura who supported the success story of
5Rocks
.
Panelists:
Changsu Lee, VP of Publisher Analytics and Insights at Tapjoy, Inc. (ex-CEO and founder of 5Rocks)
Paul Longhenry, VP & GM Business and Corporate Development at Tapjoy, Inc.
Nobuyoshi Noda, Senior Vice President at Adways Inc.
Moderator
Jiro Kumakura, Global Brain Corporation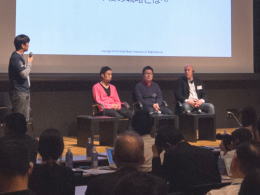 Creating a fast growing startup
The 3 top executives of fast growing startups backed by GB discussed the key strategy and issues. This session was moderated by Yuhei Iwamoto of TechCrunch Japan. The importance of creating organization, product fine tuning and sustainable process have been discussed.
Panelists:
Soichiro Swimmy Minami, Director at LUXA, Inc.
Shintaro Yamada, CEO at Mercari, Inc.
Yasukane Matsumoto, CEO & Founder at raksul.inc
Moderator
Yuhei Iwamoto, TechCrunch Japan

World Venture Pitch Battle 2014
10 Startups, winners of international pitch event in 2014, have participated in the pitch battle. They came from many different countries and all the way from Singapore, Vietnam and Malaysia to the United States, South Korea and Japan.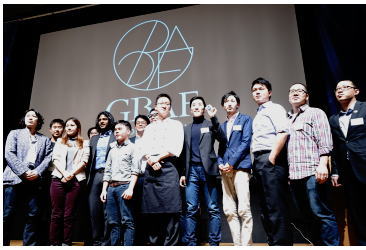 Ashwin Jeyapalasingam, CEO
CatchThatBus is an online travel agent (OTA) specializing in bus travel in Asia. The bus route information is available on the smartphone App. People can purchase the bus ticket through the App.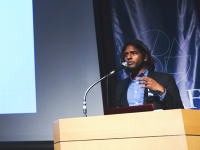 Dominique Tu, Co-founder and Chief Revenue Officer
VMFive is building the world's largest Virtual Smartphone Cloud Platform. People can experience "one click demo" on their selected Smartphone App with no pre-install software. They have already secured the alliance with Adways.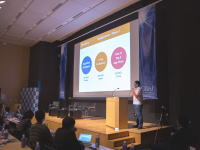 Susumu Kobayashi, Co-founder
Smart lock robot "Akerun" automatically opens the door through the smartphone without using physical keys. The door lock is unlocked through the bluetooth certification between the smartphone and Akerun.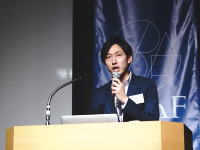 Atthaphong Limsupanark, CEO
Drivebot is a device and mobile App to health check the car. It is super easy to set up and compatible with every car sold since 1996. Car owner can monitor the car, know the car trouble in advance and improve the driving behavior.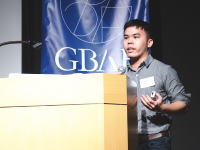 Ray Chen, Founder
LongGood develops an interactive rehabilitation system by using motion sensing depth camera to create fun, effective, and challenging applications to encourage patients from different conditions to rehabilitate at home.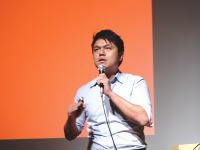 Muhd Amrullah, CEO
FaceRecog scans the eyes of customers to determine age, gender or custom features, and then runs tailored advertisements. It can count and manage the number of people whether people look or not at the outside advertising.
Do Tuan Anh, Founder and CEO
Appota is the Vietnam's No.1 mobile content distribution platform. It allows developers and game publishers to effectively distribute their content to the largest smartphone communities in South-East Asia.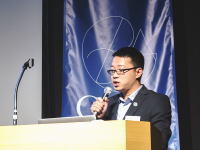 Ken Chen, Co-founder and CMO
iCHEF POS App is designed by restaurant and for restaurants. Serving more than 400 restaurants and 1 million customer every month, iCHEF is the No.1 mobile POS in Taiwan and Hong Kong.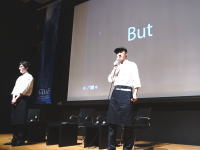 Bernard Kim, CEO
MangoPlate is your go-to app for discovering the best restaurants in South Korea. MangoPlate helps you resolve your daily problem of where to go eat by connecting you with trustworthy people as well as the best restaurants in South Korea.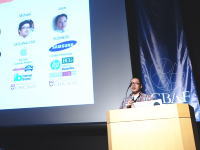 Jae Hoon Choi, Co-founder and CEO
Podo is the first app-controlled, "stick-and-shoot" camera. Podo sticks on surfaces like glass, painted walls, wood, concrete—even trees, poles, and fences. It connects to the Podo smartphone App to show you a live preview of the shot.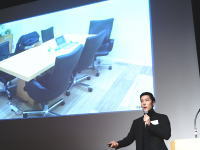 Networking Event
In addition to the startups who participated in the pitch battle, 28 prominent startups across the world setup demo booths during the networking event.
The winners of the World Venture Pitch Battle 2014 have been announced during the networking time. iChef won the 1st place award, VMFIVE won the audience award, and Podo Labs won the GB award.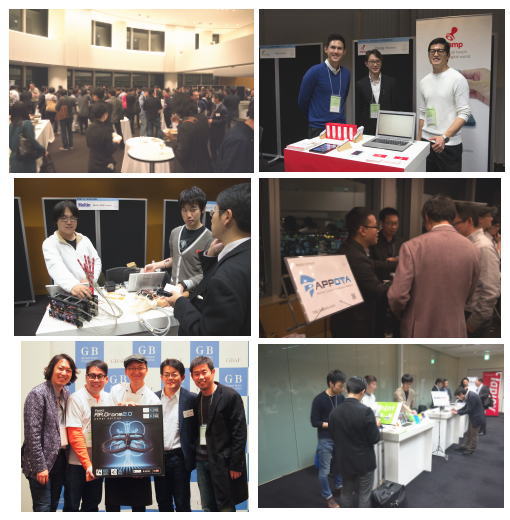 </P