December 07, 2012
6th Global Brain Alliance Forum held at Tokyo Midtown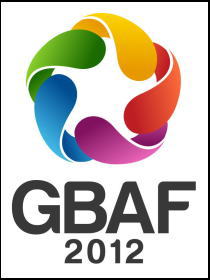 Global Brain's annual event "Global Brain Alliance Forum" or "GBAF" for short, was held for the 6th time in a row on December 7th at Tokyo Midtown. At GBAF, major corporations and venture companies come together to create business synergies.
This year's forum shone the spotlight on Asia, which has been showing remarkable growth recently. Representatives of influential startup media from across Asia were present and, in addition to 3 ventures from Japan, 6 of the ventures who participated in the main event, GBAF Pitch Contest, were from Asia, making for an even more global event.
Over 200 management planning and business development personnel from major corporations participated on the day, with representatives from ventures , universities, auditing firms, stock exchanges, law firms and the media.
Participating Major Corporations
ADK, Itochu Interactive, Excite, NTT Communications, NEC Biglobe, NTT Investment Partners,
NTT Data, OPT, Kadokawa Group Publishing, Gloczus, KDDI Corporation, Cyber Communications, Samsung Electronics, Innovation Network Corporation of Japan, GMO AD Partners, JTB,
SI-Dentsu Shanghai, Softbank, Dai Nippon Printing, TEL Venture Capital, D2C, TBS Television,
Digital Advertising Consortium, Denso, Dentsu, Dentsu Digital Holdings, Tri-stage, Nifty,
Microsoft Japan, Netprice Dotcom, Hakuhodo, Hitachi Seisakusho, Fuji Media Holdings, Fujitsu,
Fuji Television, France Telecom, Mixi, Sumitomo Mitsui Banking Corporation, mediba, Rakuten, Recruit Holdings, Kyoto University, Tokyo University, Tokyo Institute of Technology, KPMG AZSA, Japan Assurance, Kyoto Audit, Ernst & Young Japan, Grant Thornton Taiyo ASG,
AZX Professionals Group, Rajah & Tann LLP, Singapore Stock Exchange, Tokyo Stock Exchange,
IT Media, Nikkei Shimbun, beSUCCESS, CNET, e27, SGEntrepreneurs, Startup Dating, Tech in Asia
Global Brain Corporation: Yasuhiko Yurimoto, CEO
GB Strategy
To kick off the event, Yasuhiko Yurimoto, CEO of Global Brain, addressed the audience on the activities of GB's newest CVC fund with KDDI Corporation, the KDDI Open Innovation Fund.
Nifty Corporation: Kenji Mitake, President
Growth Strategy based on Nifty's Open Innovation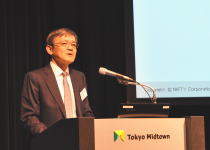 Next, President of Nifty, Mr. Kenji Mitake, gave a keynote speech about his company's partnerships with venture companies as the foundation of Nifty's new business strategy. Mr. Mitake's presentation focused heavily on their CVC fund managed by GB, "WING", giving examples of success stories in the North American and Asian regions to elaborate on their business development strategy.
Panel Discussion - "The Rise of Asian Ventures"
A panel discussion about venture activity in Asia was held with participation by representatives from tech media leaders in the Asian region.
Panelists
Moderator

Global Brain Corporation, Incubation Division: "GB's CVC Activities"
In this session, representatives of our partners, KDDI and Nifty, together with founders of our portfolio ventures, took to the stage and introduced concrete action and achievements of the corporate venture capital (CVC) funds which GB is particularly focused on as a means of promoting business and capital alliances between major corporations and venture companies.

Business Plan Content [GBAF Pitch Contest]
This year, an even higher number of overseas startups took part in the GBAF Pitch Contest, with 3 participants from Japan and 6 from overseas.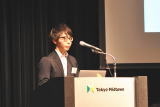 Ichiro Ozawa, CEO
apelook is an image editing service which operates the fashion recommendation app "pape.mugirls". As of November, 2012, they had reached a total of 2.5 million downloads.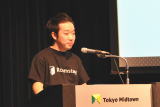 Yusuke Hamano, CEO
minma develops and operates the O2O platforms, "Roomstay" and "Kurashi-no-Market". By offering a system where individuals can do business online with a sense of security, they are by far No. 1 in an area that eCommerce has, until now, been behind in.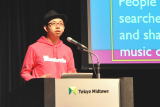 Hiroshi Asaeda, CEO
Beatrobo offers a social music service where friends can listen to each other's music. Music listening is shared asynchronously by music playlists represented by robot animations walking in and out of friends' rooms. By listening to and interacting with the robots created within the community, Beatrobo offers new music discovery and communication via music.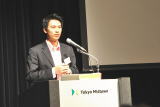 Bjorn Lee, Co-founder and CEO
Appyzoo developed an educational game platform "Stickery" aimed for mobile phone use by children. Their latest product "Babygram" is an iOS app with a social support system to connect busy parents who are expecting a baby or have a newborn at home. In summer of 2011, Appyzoo received funding from Google Ventures, 500 Startups, AngelPad and other Silicon Valley and Singapore angel investors. Appyzoo is based in Singapore.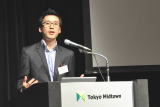 Steven Gong, Founder & CEO
Impulse Flyer targets the affluent population of Asian countries, offering luxurious travel options in an invitation-only, online travel service. This service introduces lavish boutique hotels and special plans to its members.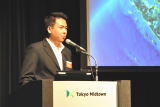 Andry Suhaili, Founder & CEO
PriceArea is a product price comparison service which connects online users with thousands of online retail stores. PriceArea's goal is to be the shopping search engine with the greatest pulling-power in SE Asia by 2015. Currently it is expanding business with a focus on Singapore, Malaysia, the Philippines, Vietnam and so on.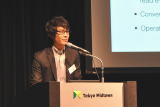 Moo Natavudh, Founder & CEO
With an 85% market share, Ookbee is Thailand's largest eBook store on an iOS and Android platform. Around 23 months down the track from launching its service, Ookbee now has 2.5 million mobile users and is growing by around 4000 people each day. Ookbee received 2 million USD in funding from InVent in September of 2012.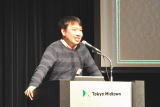 Alex Chen, Co-Founder & CEO
EZTABLE is Taiwan's largest online restaurant reservation platform and has connections with over 500 restaurants and five-star hotels in Taiwan. EZTABLE is also expanding its service to China, the UK and the US. In 2012, EZTABLE received their first funding in Asia from Clayton Christensen of Harvard Business School who is famous for his disruptive innovation theory.
Networking Party
At this year's networking party, the 9 ventures who participated in our pitch contest and the below 5 companies joined in, with a total of 14 demo booths set up.
5 additional demo booths
Below are the winners of the Pitch Contest prizes.
・First Prize - BeatroboInc.・Judge's Award - Appyzoo・GB Prize - Ookbee
An exclusive GBAF website was set up using one of Asia's applications, "Monaca".
Also, GBAF's event logo was decided after recruiting ideas from designers all around the world using PurpleCow's "designclue".
Photos from GBAF

2012 marked the 6th year in the running for our GBAF and we are looking forward to making it bigger and better next year. Watch out for Global Brain's activities in the future!